Headline: Raffle baskets available
Posted: 4/15/2020 @ 12:52:02 PM
Info:
The 2020 Parkland Boys Volleyball Raffle baskets have become available. Please see the attached information which includes details, pictures, estimated values, payment options, and form that can be sent back.
2020 Parkland Boys Volleyball Raffle Information

---
Headline: PIAA finally makes decision on 2020 season
Posted: 4/9/2020 @ 3:34:23 PM
Info: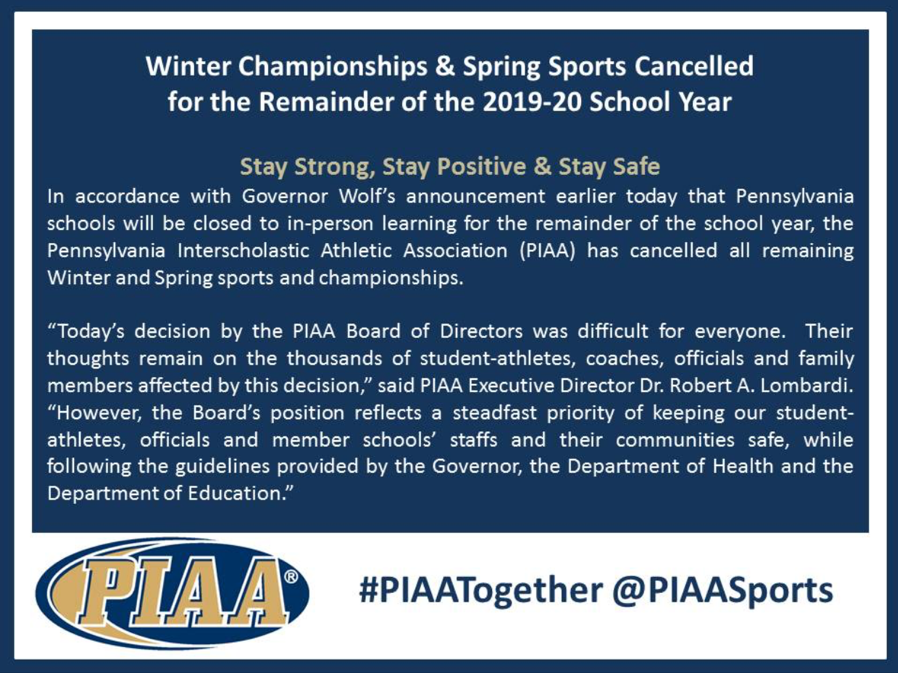 ---
Headline: Update from PIAA and Governor
Posted: 4/9/2020 @ 10:38:55 AM
Info:
Below is the latest updated posted by the PIAA.
Governor Wolf Supports PIAA Sports Shutdown
PA schools to remain closed for the remainder of academic year.
Pa. schools won't reopen this spring; schools to remain closed until end of academic year (PennLive)

---
Headline: PIAA still holding hope for winter championships and spring sports
Posted: 3/30/2020 @ 12:12:40 PM
Info:
The PIAA has not made a decision to cancel the winter sports championships nor spring sports. Read the article below for more details.
PIAA keeps winter championships, spring sports on hold after board meeting

---
Headline: LVHN offering FREE online workouts
Posted: 3/26/2020 @ 2:18:37 PM
Info:
Beginning next week, LVHN is offering the boys volleyball team FREE online workouts with a live instructor. We are scheduled for Tuesdays and Thursdays from 1:00 - 1:30pm. Once I receive the information I will send it out. They will be offered through Zoom.

---
Headline: Further postponements
Posted: 3/23/2020 @ 3:16:50 PM
Info:
With Gov. Wolf's announcement today, additional matches have been postponed through and including the week of March 30th. The schedule has been updated. Whenever additional information is released, I will post it. Stay safe!

---
Headline: Coronavirus information
Posted: 3/23/2020 @ 3:09:27 PM
Info:
The PIAA has continued to post information about the coronavirus. Please see the PIAA website for more information. Their second statement can be seen here. Their third statement can be seen here. The latest statement can be seen here.
The Parkland School District sent out the following letter to parents.


Parkland School District letter to parents regarding Coronavirus

---
Headline: All activities canceled
Posted: 3/15/2020 @ 8:11:35 PM
Info:
Effective immediately, there is to be zero workouts, practices, scrimmages, etc. That includes on and off campus workouts. Coaches nor players should schedule workouts of any kind.
As soon as more information comes out, I will post it.

---
Headline: 2020 Bobcat Invitational canceled / postponed
Posted: 3/13/2020 @ 3:03:41 PM
Info:
Coaches and AD's...
These are crazy times we're walking through... Though I am certainly not one given to panic over the corona virus, it is something that is impacting all of us in many ways...
I'm sure many, if not most (or even all) of you have been staring at the Volleyball season, wondering how things will play out (or even if there will be play)...
Here's the information on the Bobcat Invitational... Northeastern School District is totally closed for the next two weeks and will not reopen until after the scheduled dates of our tournament. That means this year's Bobcat Invitational won't happen (at least not on March 27 and 28).
However, pending PIAA decisions that could impact Spring Sports in even more critical ways, we are holding out hope that we might still hold a modified tournament later in the season... perhaps May? We know that no change in date will work for all of the 40 teams committed to the Bobcat for this year... so the hope of a later tournament would by necessity be of smaller proportion, and may be little more than hopeful (or even wishful) thinking on our part.
We appreciate your understanding, and will be in touch as we see how things progress with containment of the corona virus.

Blessings,

---
Headline: Central Dauphin scrimmage CANCELED
Posted: 3/13/2020 @ 12:08:53 PM
Info:
Tomorrow's scrimmage at Central Dauphin has been cancelled. As soon as any additional information is released, I will post it.

---